Big changes are looming in the fishing conditions across middle and East Tennessee. However, some others are going to continue about the same. In the short term, cooler weather will make fishing pleasant over the next few days compared to the heat of last week. We routinely saw heat index values over 100 degrees last week in middle Tennessee. The result is that we are really looking forward to the cooler days of fall. Traditionally, temperatures start a gradual decline sometime in September. Hopefully we see that first big cool front of the season in mid September to scour out the humidity and some of the heat. In the meantime, fishing in the Smokies will continue to be good and tailwaters will offer some good opportunities.
Caney Fork, Clinch, and Obey River Reports
Our tailwater fisheries are all doing reasonably well. The big surprise this year has been that the Caney has continued to fish well late into the summer. The past few years have seen an abrupt drop off in the fishing quality on the Caney by mid to late June. This year, however, fishing has held on strong through most of July. So far, the fishing is good enough to still schedule some trips there. Just don't expect the amazing fishing you might experience in May or early June. Mid summer is tough no matter where you fish.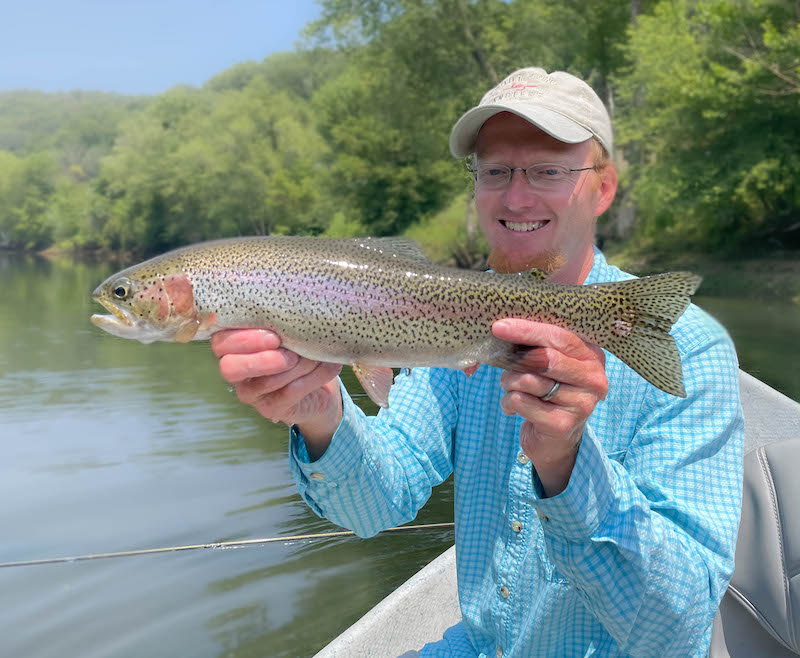 The one possible bright spot this time of year is the chance to find and sight cast to large brown trout. The mid to late summer opportunities for big browns are one of my favorite things about the Caney Fork. Sight fishing with small midges is not easy, but the rewards can be massive. Overall numbers won't be there, but there is always the chance at a big fish. Some great rainbow trout have been around lately also. Be sure to ask about the mid to late summer terrestrial fishing opportunities as well when you book a trip.
The Obey is still in daily high water mode. However, we expect this river to fish well by mid to late fall. This will offer another float option for people wanting to enjoy a day on the boat and also experience a different river. This river primarily offers rainbows, some of which may be large, but has also produced some big brown trout over the years.
Clinch River Challenges
The Clinch River has been fishing decently, but with greatly decreased overall fish numbers in the river. It has taken all of our knowledge about this river to keep people catching fish. A combination of over harvest the last year and a half, stripers, and probably the big flows of the last several years have all created the perfect storm of conditions to decimate the trout populations on the Clinch River. Until TWRA chooses to manage this and our other tailwaters differently and until TVA maintains better minimum flows, expect this problem to continue.
Tailwater Fall Drawdown
The next several months is the annual fall drawdown on our reservoirs. TVA and the Corps of Engineers keep the lakes full in the summer for recreation. However, in the winter, they drop them down significantly for flood storage capacity. August is when we usually start seeing higher flows as the lakes begin this drawdown process. The Clinch, Caney, and Obey will all accordingly see high flows over the next 2-4 months depending on upcoming rainfall. Hopefully, this process will go smoothly and we can get to the great fall fishing by mid to late October.
If you want to fish these higher flows, we are definitely glad to help get you out there. Just be aware that the higher flows can provide tougher fishing. One generator flows will offer shots at some larger trout. Same thing with two generators, but the overall numbers will probably be lower most days. Also, casting a super deep nymph rig or stripping streamers isn't for everyone.
Smoky Mountains Report
The fishing in the Smokies has finally hit the usual summer doldrums. While we are still having some good days, the heat last week really slowed things down. The higher elevations are still fishing well if you know how to fish low water. We could use a good amount of rain, but right now that doesn't look like it will happen any time soon. The one good thing about fishing this time of year is the terrestrial fishing. Another overlooked fly this time of year is a midge. When the fish aren't responding, try downsizing to a small zebra midge and see if the fish will start eating again.
This time of year, I usually like to highlight one of my favorite summer techniques for catching fish in the Smokies. You can read all about Candy Ants over on my blog. Another favorite is beetle fishing. If you are interested in doing more hunting and less casting, check with my about a trip in the Smokies to fish beetles. Lots of fun!!!
Smallmouth Bass Report
The warm water streams are still fishing well both here on the Plateau and down in the lowlands as well. I got out last week with Trout Zone Anglers guide Pat Tully to share some water here on the Plateau. We found plenty of fish, but the average size was decreased from what I've grown accustomed to over the last few years.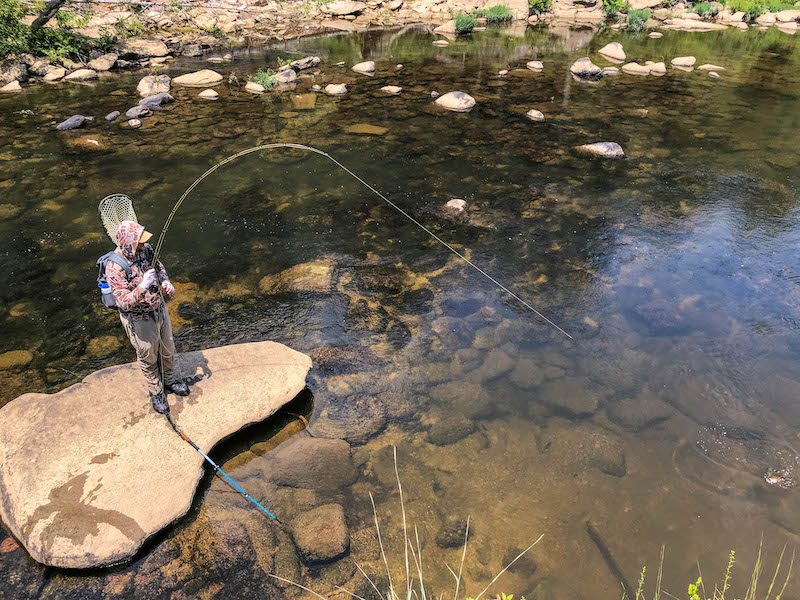 Guide Travis Williams has been spending time in the raft floating some of the best smallmouth water in East Tennessee. His last trip included good numbers of fish and they also hooked some big ones. If you want to check out some unique smallmouth water, consider booking a trip with Travis. You can see all trip rates at our Rates page. We usually fish for smallmouth through sometime in September and occasionally even into October. Trout fishing will start to pick up by late September though, so you'll see us on trout streams a lot more by then.