Some of the best fly fishing in the eastern United States is in Tennessee. In addition to numerous warm water opportunities for largemouth and smallmouth bass, striped bass, muskellunge (musky), carp, and other goodies, we have some of the best trout tailwaters around. Rivers like the Caney Fork, Clinch, Elk, Hiwassee, Holston, Obey, South Holston, and Watauga are all excellent trout rivers. We offer both guided wade and drift boat options on several Tennessee tailwaters.
For more information in a guided fly fishing trip on one of our Tennessee tailwaters, contact us for more information. You can also visit our trip rates page. Once you see the trout that live in our tailwaters, you'll want to fish them again and again. While our tailwaters are not limited to trout, that is where are favorite fishing opportunities lie.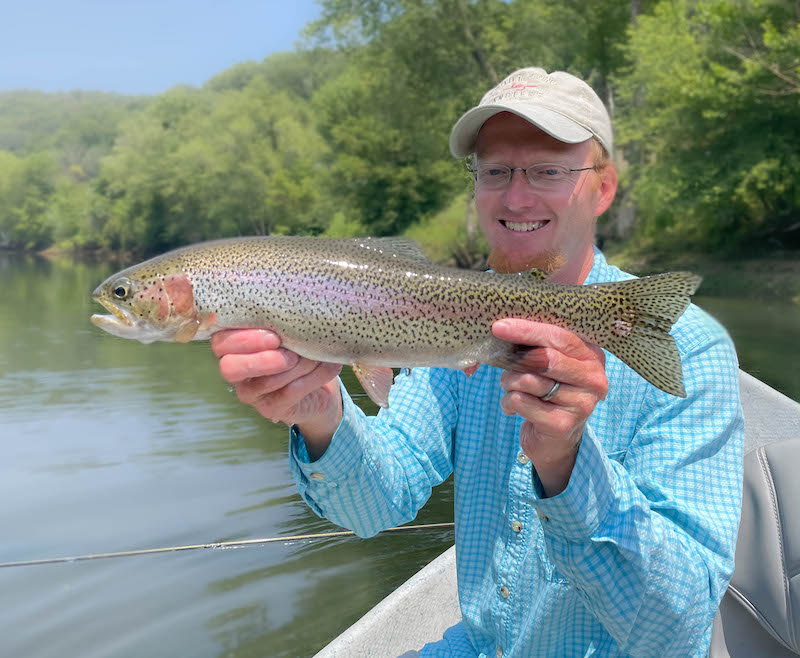 The Tennessee Tailwaters We Guide On
Our favorite Tennessee tailwaters to guide are the Clinch River and the Caney Fork River. A sleeper that most people miss is the Obey River. These rivers are conveniently located close to Knoxville and Nashville respectively. If you are going to be visiting Knoxville, you can also look at a fly fishing trip in the Great Smoky Mountains National Park with us. That said, if your goal is to catch larger trout, then you cannot go wrong with either the Clinch or the Caney.
Every year, we have a Guide Trip Fish of the Year Challenge. These fish always come from either the Caney Fork or the Clinch. If you are interested in trying your hand at the challenge and the free trip that comes with it, sign up for our email newsletter for more information. You can sign up at the side of this page or the bottom depending on if you are accessing this page from a desktop or a mobile device.