Here at Trout Zone Anglers, our goal is to give you the best possible day on the water. Accordingly, I keep trip sizes small with no more than two anglers per guide. We feel that hiring only the best fly fishing guides in the area will provide you with the most memorable day on the water. Our guides are all chosen not only for their intimate knowledge of the streams they guide on but also for their overall attention to detail and quality of service. We believe that a guided fly fishing trip should help you become a better angler. Our guides are here to help you accomplish that goal. 
We have had some amazing guides helping us with trips over the years. Starting in 2018, we added long time Smokies guide Travis Williams. Travis is an excellent guide with a knack for teaching. He employs some of the same high stick methods we have long preferred which is one of the most effective ways to fish in the mountains. Recently, Travis added a raft which opens up a LOT more water for guided trips including some amazing out of the way smallmouth bass options.
More recently we added Pat Tully who is an excellent angler and guide. Pat has been guiding for the prestigious and exclusive Blackberry Farm. He is one of the most patient anglers I know and once watched a big brown trout over 20″ long for 2+ hours until the fish started feeding. He then waded in and proceeded to catch that trophy fish. Most anglers could not sit still for that long! Pat is now joining the other Trout Zone Anglers fly fishing guides and hopes to share his love of fly fishing with you.
Just this year, we then added expert guide and angler Elam Kuhn on a part time basis. He is a full time fly fishing guide at Blackberry Farm, but picks up trips with us on his days off. Elam is one of the fishiest guys I know and knows the Smokies better than almost anyone I've met. His approach to fly fishing reminds me a lot of my own style.
We hope to continue growing while only hiring additional guides who can provide a superior fly fishing experience. If you have a specific guide request, please let us know that at the time of booking. We here at Trout Zone Anglers look forward to sharing a day on the water with you sometime in the future!
Sincerely,
David Knapp
Meet the Trout Zone Anglers Fly Fishing Guides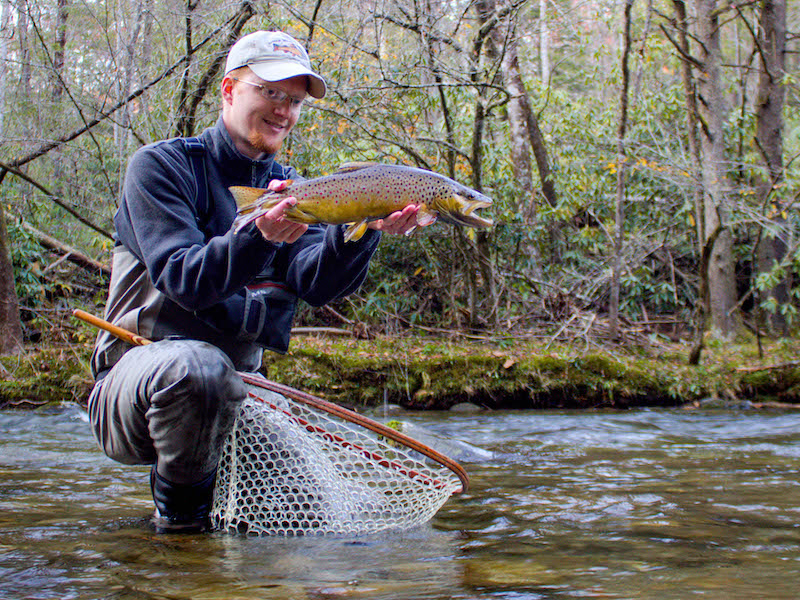 David Knapp is the owner and head guide at Trout Zone Anglers. He began fly fishing as a kid and never looked back. Learning on the streams of the Great Smoky Mountains National Park, it didn't take long before David began to learn the intricacies of tailwater fishing for trout on rivers like the Caney Fork. Smallmouth bass and other warm water species like carp are another favorite for David. While he prefers chasing big brown trout wherever he can find them, with his favorite being in the Great Smoky Mountains, he also has a real soft spot for native brook trout. In the summer, you are likely to find David with a light fly rod and a few dry flies chasing brook trout in the higher elevations of the Smokies. A high school math teacher for several years, David brings his teaching passion and expertise to guiding. He believes that a guide trip should be a learning experience that helps you become a better angler. To that end, David completed a Masters in Outdoor Education and continues to expand his knowledge and skill set to provide the best possible experience for visiting anglers.
David's specialties include teaching traditional high stick nymphing methods along with more modern euro techniques, tailwater midge fishing from the drift boat, and targeting large predatory brown trout. David also enjoys streamer fishing, both in the mountains and on tailwaters out of the drift boat and also chasing musky on the fly. Finally, David is somewhat of a bug nut. If you want a chance to fish some of the best dry fly hatches in the Smokies, then David is your guy.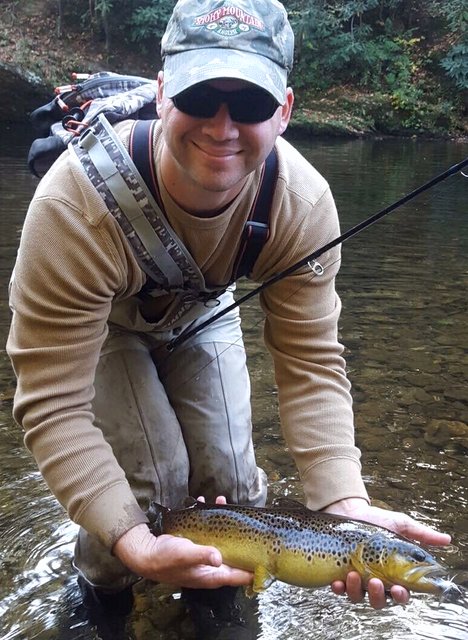 Travis Williams has been a guide in the Great Smoky Mountains National Park since 2011, and is a proud father of an 8 year old boy and two girls ages 5 and 2. He also has a lovely wife that understands and supports his passion for fly fishing and guiding. Travis was raised and still lives 1.5 miles outside the GSMNP on Dunn Creek, a small rainbow and brook trout stream between Gatlinburg and Cosby. Although he literally has rainbow trout in his back yard, Travis prefers chasing the brown trout of Little River, Oconaluftee River, and Cataloochee Valley. When Travis is not spending time with his family and wetting flies, he pays the bills by operating the Gatlinburg Trout Facility which stocks trout in the Gatlinburg City Waters in conjunction with TWRA. What a dream job for a fly angler!
Travis enjoys guiding out of a raft for smallmouth, trout and other game fish. His specialties include some out of the way and overlooked smallmouth water, floating the Clinch River for trophy trout, and of course teaching successful strategies on the streams of the Smokies.
Travis now enjoys the title of Trout Zone Anglers guide emeritus, having "retired" from guiding as the Gatlinburg Trout Facility demands his full time. Hopefully he'll come out of retirement someday, but in the meantime, thanks for working hard on such a great fishery in Gatlinburg!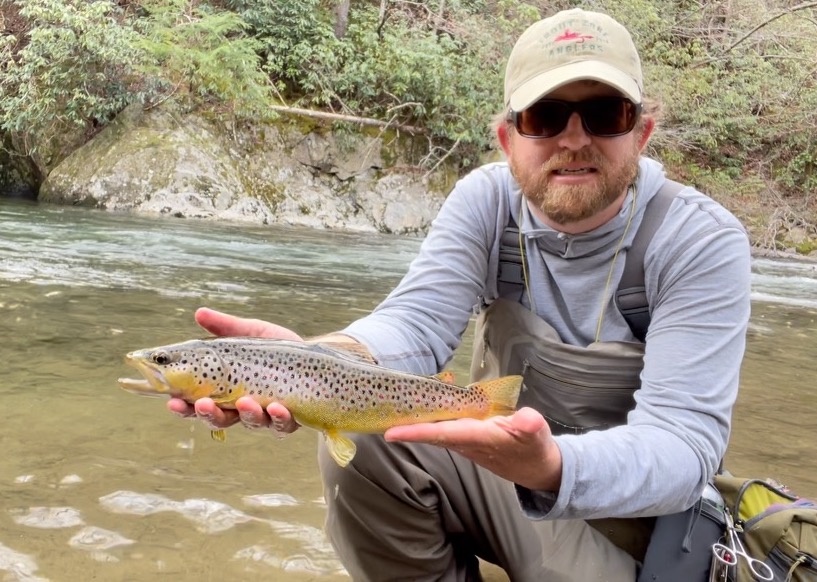 Pat Tully grew up in the Jacksonville, Florida area. His passion of fishing was first ignited at the age of eight. His grandpa and dad taught him how to fly fish on several ponds he frequented. Fast forward to college and he was looking for any opportunity to head to north Georgia. There he liked to chase beautiful wild trout. After visiting the Great Smoky Mountains National Park with his wife, they decided to go on their big adventure and move to the area. Pat is still amazed that he can catch wild trout in his own backyard. This is something he hopes never to take for granted.
After ten years in the turf-grass maintenance industry, Pat is excited to share one of his favorite passions with people. That could include hiking in for native brook trout, chasing after big browns, or stalking rainbows on Abrams Creek. He is married to a wonderful and understanding wife. They enjoy the time they have had with their 3 year old daughter and 1 year old son. Pat looks forward to passing on his love of fishing to his kids someday. When he isn't on the water, you can find him playing with his kids, woodworking, and fellowshipping with his church family.
Pat's specialty is teaching anglers to find success on the streams of the Great Smoky Mountains National Park. Chasing brook trout is always a favorite, but Pat also enjoys hunting for large wild brown trout and teaching the tactics necessary to be successful there. In 2022, Pat added a drift boat and is now offering float trips on area waters including the Caney Fork and Clinch River.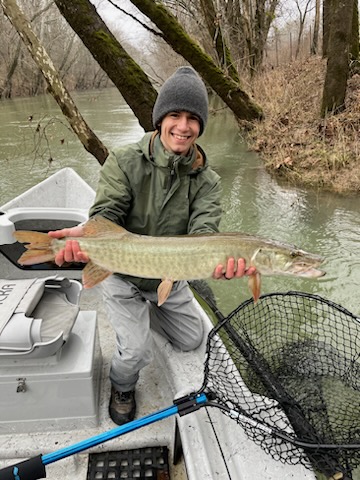 Elam Kuhn moved to the Smokies when he was four years old from the state of Ohio. He caught his first fish on a fly rod in the Great Smoky Mountains National Park when he was 7 years old and has been fly fishing ever since. Growing up, Elam spent his spare time either fly fishing almost every inch of stream in the Smokies or tying his own flies.
Elam has been married to his wife Anna for three years and has a one year old son name Leo. When he isn't fishing or tying flies, Elam likes to hike, garden, and spend time with his family. As a long time experienced guide at the prestigious Blackberry Farm, he enjoys taking anglers of all skill levels. Whether it is introducing someone to the satisfaction and joy of catching wild trout on a fly for the first time or showing an experienced angler less seen and technical fisheries, he enjoys it all.
Elam's specialty is fly fishing in the Great Smoky Mountain National Park. He particularly likes to fish less popular spots off the beaten path and to share the rarely seen, but beautiful areas of the park with other enthusiasts. In the GSMNP, his favorite part of fly fishing is pursuing native brook trout. When fishing outside of the Park, Elam has a strong love for chasing smallmouth bass and musky on the fly.