Here at Trout Zone Anglers, our goal is to give you the best possible day on the water. Accordingly, I keep trip sizes small with no more than two anglers per guide. We feel that hiring only the best fly fishing guides in the area will provide you with the most memorable day on the water. To that end, we focus only on quality of trips and not quantity as some other guide services do. Thus, we do not attempt to compete with guide services offering extremely discounted trips. Since starting Trout Zone Anglers in 2014, the number of guide trips run each year has grown tremendously. This means that we have the foundation to continue providing meaningful fly fishing experiences for anglers in the future. As the business has grown, so has the need for additional guide help.
Additional Guides
Starting in 2018, we added a second guide to help out with trips. Travis Williams is a Smoky Mountain native who knows the streams of the Smokies like the back of his hand. Additionally, Travis specializes in the same high sticking techniques that we prefer as well as chasing big brown trout. You can find out more about him in the guide bios below. I only hire fly fishing guides who I feel will provide a comparable experience to what an angler would get while spending the day with me on the water. Travis provides the highest level of service and fly fishing expertise that you have come to expect from Trout Zone Anglers.
We hope to continue growing while only hiring additional guides who can provide a superior fly fishing experience. If you have a specific guide request, please let us know that at the time of booking. We here at Trout Zone Anglers look forward to sharing a day on the water with you sometime in the future!
Sincerely,
David Knapp
Meet the Trout Zone Anglers Fly Fishing Guides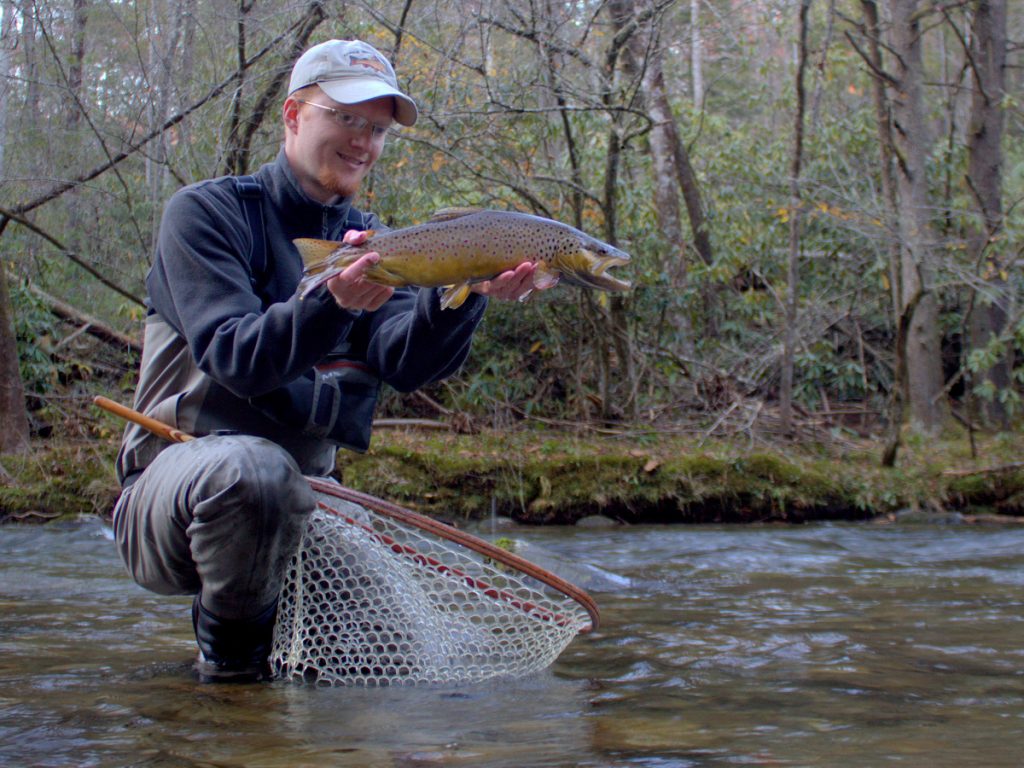 David Knapp is the owner and head guide at Trout Zone Anglers. He began fly fishing as a kid and never looked back. Learning on the streams of the Great Smoky Mountains National Park, it didn't take long before David began to learn the intricacies of tailwater fishing for trout on rivers like the Caney Fork. Smallmouth bass and other warm water species are another favorite for David. Most of all, he prefers chasing big brown trout wherever he can find them with his favorite being in the Great Smoky Mountains. A high school math teacher for several years, David brings his teaching passion and expertise to guiding. He believes that a guide trip should be a learning experience that helps you become a better angler. To that end, David recently completed a Masters in Outdoor Education and continues to expand his knowledge and skill set to provide the best possible experience for visiting anglers.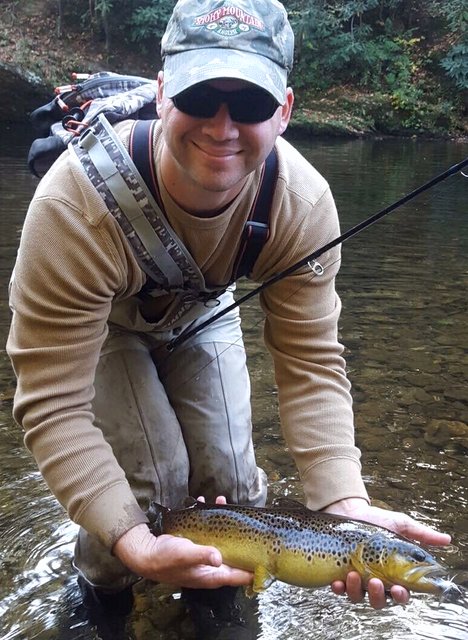 Travis Williams has been a guide in the Great Smoky Mountains National Park since 2011, and is a proud father of a 5 year old boy and a 3 year old girl. He also has a lovely wife that understands and supports his passion for fly fishing and guiding. Travis was raised and still lives 1.5 miles outside the GSMNP. His home is on Dunn Creek which is a small rainbow and brook trout stream between Gatlinburg and Cosby. Despite having rainbow trout literally in his back yard, Travis prefers chasing the brown trout of Little River, Oconaluftee River, and Cataloochee Valley. When not guiding, fishing, or enjoying time with family, Travis pays the bills by working as a patrol officer for the Gatlinburg Police Department.
We at Trout Zone Anglers are excited to add a guide of Travis' caliber to the lineup. If you want to take a trip with Travis, be sure to specially request him at the time of booking!