We have been fishing all across middle and East Tennessee lately. The lowland rivers from the Caney Fork to the Clinch to smallmouth bass streams like the Pigeon have all been fishing well lately. Smaller water in the Smokies has been good also. We gravitate towards smaller streams this time of year. Pay attention to the weather, however. Big brown trout can be caught when conditions are right during the summer months. Focus on rainy days or day with high, stained water. On tailwaters, pay attention to the recent rainfall. Heavy rains can muddy the tailwaters for anywhere from a day to a week or more.
Tailwater Report
We have been on the Caney Fork and Clinch River a lot lately. The Caney Fork River has been fishing better later into the summer than usual. Historically, the Caney has fished well into August, but the last 3 years that has not been the case. Hopefully, this year is the start of a return to normal. We have had some larger trout caught including rainbows up to 19 inches and brown trout up to 18 inches or so. A few monsters have also been lost on hook sets or otherwise.
The Clinch River is also fishing well as often as not. As I always say, the river has a reputation for difficulty, but on good days it can really shine for experienced anglers. Recently, we had a 27.25″ brown trout caught along with numerous rainbow trout to 19 inches for one excellent angler.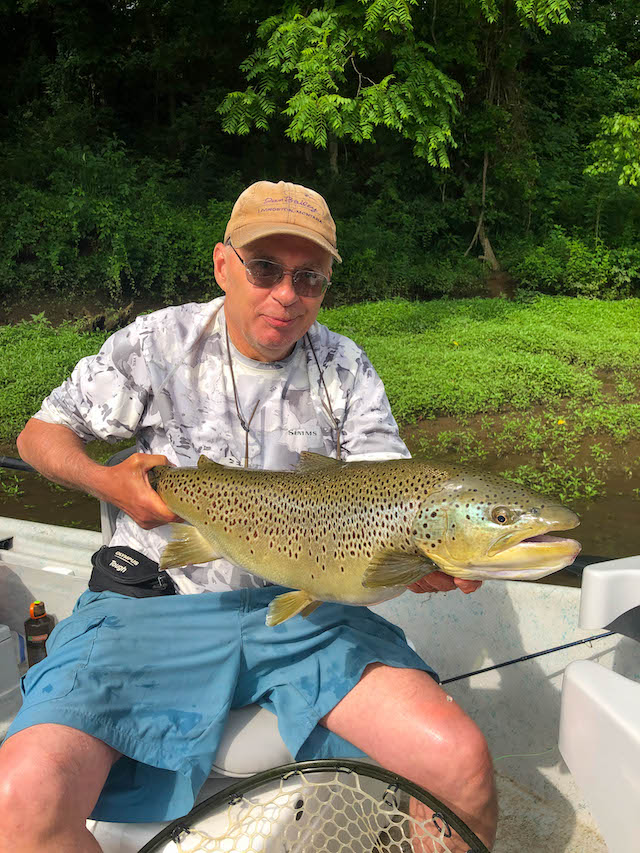 Fly selection for the tailwaters has been simple. Midges, midges, and then some more midges. Specific colors and sizes are changing, sometimes daily. The main theme of midges has been a constant for us though. If fish aren't taking your flies with bright beads like silver or copper, try a midge with a black bead or no bead at all. On the Caney, don't forget some small soft hackles for those early and late risers.
Smoky Mountains Report
The Smokies have been up and down from day to day. This is almost exclusively related to fishing pressure as flows have remained decent for this time of year. We have headed to the mid and high elevations lately due to water temperatures. The lower reaches have not gotten too hot to cause long term damage yet. They have been warm enough that anglers should avoid fishing them, however. If we can make it another month and a half, we might finally have a summer where the low elevations make it through the hottest part of the year.
Fly selection has been all over, but the summer terrestrial theme has been a solid place to start. Ants, beetles, inch worms, and occasionally even hoppers will all produce trout in the Smokies right now. Otherwise, little yellow stoneflies (nymph and dry), isonychia nymphs, and small pheasant tails should put some fish in the net. Very small Parachute Adams can fool some risers as well.
Warm Water Report
The smallmouth bass fishing has been good which is usual for the summer months. We have used a variety of techniques but our favorites are fishing topwater. Some days, the bass just aren't interested in coming to the surface. On those days, streamers, crawdads, or hellgrammites will catch fish down deep. If you are wanting to work on your smallmouth bass game, then check in with us about a guided wade or float trip. Trout Zone Anglers guide Travis Williams (pictured below) does smallmouth bass floats in his raft which enables him to access hard to reach water that the drift boat won't make it through.