Fishing is really picking up around the area. Tailwaters are starting to drop to something more reasonable, and also the mountains are getting into spring fishing time. Hatches have started with happy fish. Read on to find out the details.
Smoky Mountains Fishing Report
The Smokies are finally fishing reasonably well. The quill gordon and blue quill mayflies have been hatching well the last couple of weeks. The quill gordons won't last much longer, but the blue quills should trickle off for at least another couple of weeks. We have been sticking to the various branches of Little River for guiding with good results. Dry fly fishing is starting around noon or one most days. The nymph bite has been strong as well.
Last week, I got to enjoy a last blast camping and fishing trip for a while. I headed over to Smokemont and enjoyed some of the North Carolina water that I don't get to fish quite as often. I was joined by other Trout Zone Anglers guides and we had a great time dry fly fishing and talking about the 2021 guiding year that is really starting to get going. Here is a dry fly eating brown that I nailed on my first full day of the trip.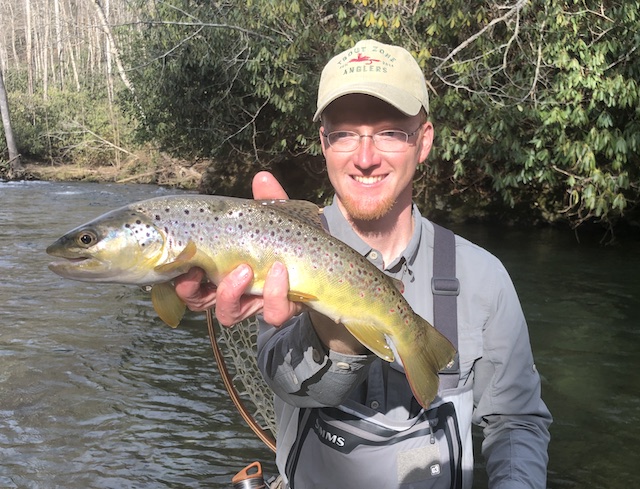 Big News
We have some exciting news for this upcoming guide season. For this year, we are finally expanding yet again. Guide Pat Tully will be joining us and will begin by offering trips in the Great Smoky Mountains. Pat comes to us from the exclusive Blackberry Farms so you know he is an excellent guide. We are hoping to begin offering expanded float offerings in middle and East Tennessee soon as well. Here is Pat with one of his fish from last week's trip.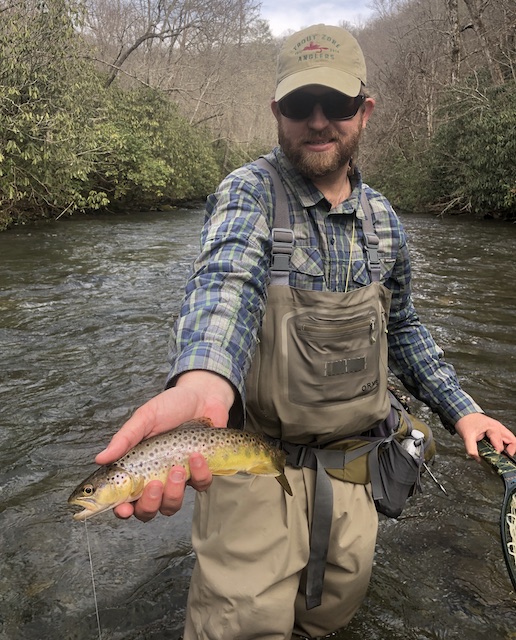 Back to the Smokies Fishing Report
Finally, Trout Zone Anglers guide Travis Williams made it over for a day of fishing as well. He caught quite a few fish including this chunky brown trout that exploded on the dry fly in heavy pocket water.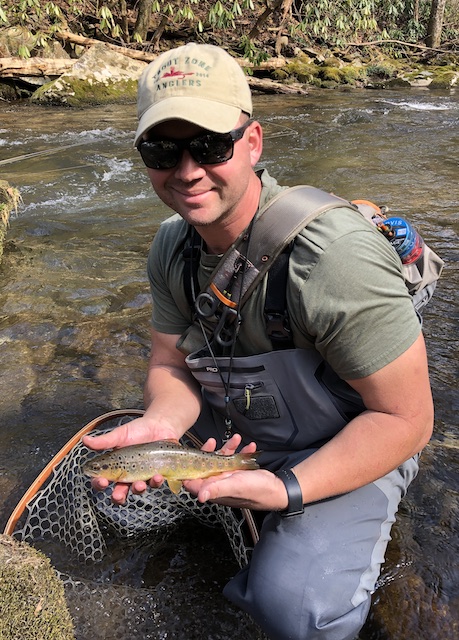 By this point, you might be seeing a trend. This was the week of brown trout. The rainbow trout have gotten really serious about the spring spawn, and many of the larger rainbows are now busy doing their thing. Please leave them alone if you come across any spawners. Also, avoid walking through sand and gravel, especially in the tailouts of pools and in shallow faster riffles. Those eggs can easily be crushed if you walk on them. The good news it that it is currently easier to get your flies to the brown trout. There aren't as many rainbows ready to rush your offering. Eileen found this out in a really good way on a guide trip last Monday when this big brown trout ate the nymph we were fishing. Congrats Eileen on a trophy Smoky Mountain brown trout!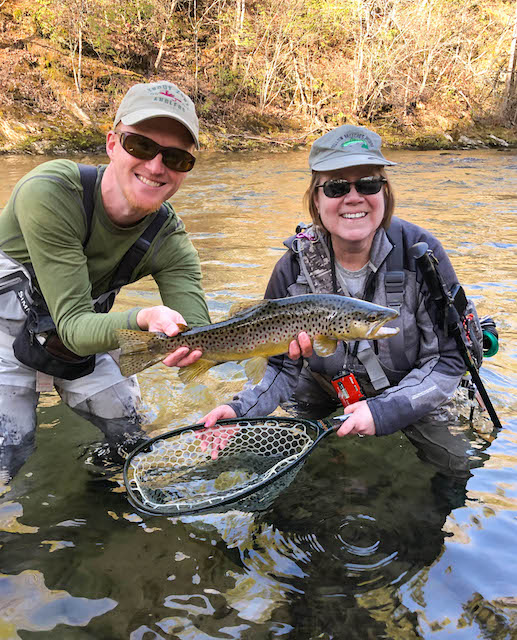 Tailwater Fishing Report
The tailwaters are finally dropping back towards more reasonable flows. The Clinch River is currently still at a very high two generator flow, but that is better than the 14,000+ cfs that we saw until just a couple of days ago. The Caney Fork is also starting to offer some low water windows. Spring stocking has commenced and the fishing will just get better over the next couple of months as long as we can avoid super high flows from big rain events. Keep your fingers crossed on that! We will be spending more time on the tailwaters soon and will have some updated reports as soon as we do.
Used Gear Sale
If you are looking for some quality used fly fishing gear, check out our sale page at the Trout Zone. I'm clearing out the closet to make room for new gear, and you'll find some really good deals.