Fishing has started to pick up across middle and East Tennessee, especially in the Great Smoky Mountains. Tailwater fishing remains spotty but should also be picking up soon unless we get too much rain and an extended bout of high water.
Great Smoky Mountains Report
Fishing was good in the Smokies today, although there is still a lot of water coming down the mountain in each drainage. During our time on the water guiding, there were little black caddis, early brown stoneflies, quill gordon mayflies, and blue quills all hatching sporadically. I spotted one lone riser, but nymphs were picking up plenty of fish. A basic pheasant tail nymph or caddis pupa did the trick.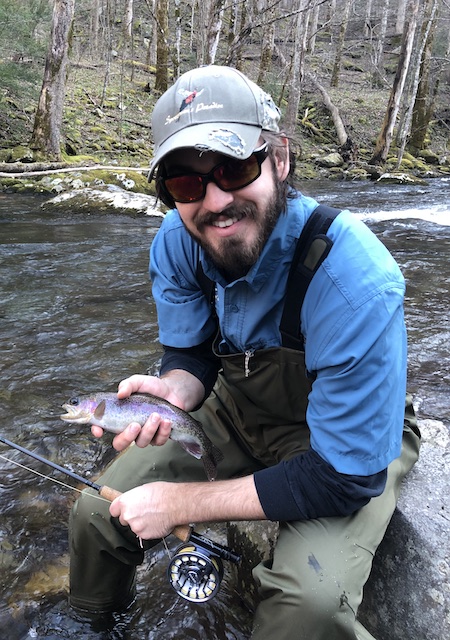 With rain in the forecast, we may continue dealing with high water. In between the high water times, bugs should continue to hatch now for the next few months. Quill gordon and blue quill mayflies will be the exciting hatch, but don't overlook the little black caddis. They often produce better fishing opportunities this time of year than the mayflies. Fish are eating stonefly nymphs well also.
Tailwater Report
We have been spending some time on the Caney Fork as of late. The river has been okay some days and pretty slow on others. Right now, we're seeing some decently big flows. On days where shad happen to come through, fishing can be good. Otherwise, get those big streamers out and heavy sinking lines to cut down through the current. Numbers probably won't happen unless shad are coming through. Big water is all about hunting for that one fish. Some days are definitely better than others. Even on those slow days, keep fishing hard. The next big fish could only be a cast away!
The Clinch River is running a steady two generators. The last time we were out on the two generators produced tough fishing. Of course, that's just the nature of the Clinch anyway. Some days are better than others. Streamer fishing can be good on those flows on the right day. Deep nymphing will produce on some days and be more difficult on others. Worms, scuds, pheasant tails, and of course midges are all worth drifting deep under a bobber.
Swim Those Flies
Part of fishing streamers effectively is properly swimming the flies through the water. Under different circumstances, you will want to vary your retrieve to match those ever changing conditions. You'll also probably want to adjust your flies to match the day.
On a recent float trip, John was there to hunt big fish. With shad coming through Center Hill Dam from time to time, we knew there was a chance to get a big fish on a shad imitation. John had tied up some of my PB&J streamers to match the hoped for "hatch" accurately. When we got to the river, I asked him if he wanted to catch a fish on one of his flies or use mine. He decided to use his own, so I tied it on and could tell just by looking that this fly was tied correctly. Soon, we got it in the water, and it moved just right also.
As we continued down the river, I had the guys work on fishing shad flies correctly. Each type of streamer requires a different retrieve, and swimming shad imitations is different from an aggressive jerk strip retrieve we sometimes use on those larger flies. Finally, we were approaching a big log that sometimes holds good fish. I told both guys to swing their flies in front of the structure and see what might happen.
John knew what that meant. Last fall, he had caught his first runner fish in Yellowstone swinging flies. When I said to swing the streamer, he knew exactly what to do. He teased his flies right along the structure, and all of a sudden, a big silvery brown blur annihilated his PB&J.
New Guide Trip Fish of the Year Leader for 2021
I quickly maneuvered the boat back away from the structure. John horsed the big brown trout out on the stout 1x tippet. Thankfully, the knots all held, the hook stayed connected, and we were soon admiring a new Guide Trip Fish of the Year. The 21.25″ brown trout is the top of the leaderboard for big fish of the year 2021. There is still plenty of the year left. We'll likely see several larger fish, but it was a thrill for John to catch his first big brown trout on a streamer he tied. This was the second fish over 20″ he has caught in my boat, but the last one was on a fly I tied. Congrats again on a great fish John!