Fishing is decent to good across a large portion of Tennessee's trout waters. We have recently been on the Caney Fork, Clinch River, and Hiwassee River. Of those three, the Hiwassee is putting out the best numbers while the Clinch is our choice for quality fish right now. The Smokies will also produce some good fishing if you choose your days wisely.
Great Smoky Mountains Fly Fishing Report
The Smokies have been good on some days. Today probably wasn't that day, however. Heavy rainfall yesterday and last night brought the water levels way up high. I'd recommend holding off for another day or two unless you really like fishing high water. By this next weekend into early next week, conditions should be much better.
Start looking for some bugs on the mountain streams with reasonable weather forecast over the next couple of weeks. Stoneflies and midges are most likely although as we head into February, start looking for blue-winged olives as well. By late February, little black caddis and blue quill mayflies will probably be making an appearance along with quill Gordons by early March. That could all happen much sooner if it warms up and stays warm.
Caney Fork River Fly Fishing Report
The Caney is probably the slowest of the waters we fish right now. It won't get significantly better before March for "normal" low water fishing. If you happen to luck into a shad kill scenario on high water, the big ones will come out to play. Those larger fish are around although not particularly easy. There is always a chance to scare one up on a nymph on low water floats, but there are generally better places to fish for the next month or a little more.
Clinch River Fly Fishing Report
The Clinch River has been the biggest bright spot lately. It has produced some stellar days and some big fish. Of course, being the Clinch, there is always the chance you catch it on a Grinch day. You can imagine how that might go. Last Friday was a guides' day off trip and we more or less got the Grinch. I got lucky with one big rainbow trout that could be my fish of the year.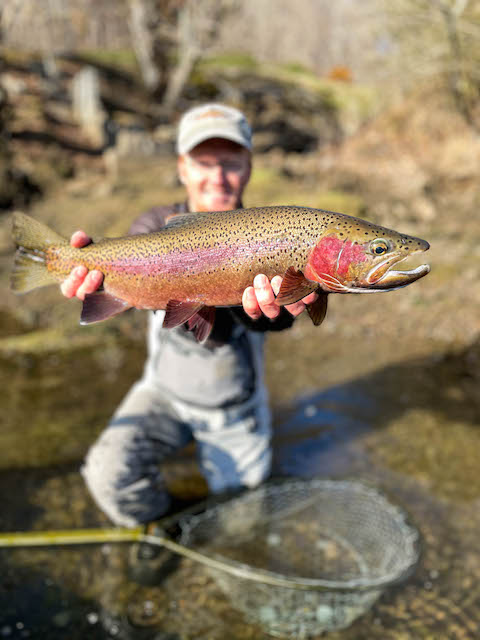 Hiwassee River Fly Fishing Report
While this is outside of our guide waters, the Hiwassee is worth the trip to fish right now if you can catch it on low water. I always enjoy the winter and spring bug action on the Hi. Winter stoneflies and midges are the main highlight right now, but blue-winged olives aren't far away along with Hendricksons and other mayflies. The caddis might be even more impressive if you hit it on a good day. I usually quit fishing it for the year by early May. The crowds start to show up, recreational flow schedules are put in place, and I'm off to find wild trout in the Smokies.