Every year, about this time, people here in the local fly fishing community start to speculate about the state of the Quill Gordon hatch. Comments like, "Any day it will bust wide open," and "We are almost there," show that people get just about as excited about this hatch as any we experience. The fact that these are the first large mayflies of the season helps of course, but after reading a few more of these "Spring is almost here" comments over the last few weeks, I realized something: people are missing out on a great hatch because they expect too much. Let me explain.
Blanket hatches are mostly rare here in the Smokies with a few notable exceptions like the Yellow Sallies of late spring into summer. Fishermen who have been around long enough probably remember years where the Quill Gordons were epic. Strong emergences with lots of the duns on the water at any given time tend to elevate expectations beyond what is rational. For example, back in 2010 we had some of the best early season hatches I can remember. While I could speculate all day as to the factors that led to this occurrence, suffice it to say for now that most years don't offer the same concentrated hatches that we occasionally enjoy.
This has led anglers, including myself, to buy Mother Nature's head fake each spring and as a result miss out on the real first hatches of the year. Last spring I remember seeing a few Quill Gordons, but I was so sure that the "real" hatch would start soon that I missed out on some great dry fly opportunities. The same is happening to others this year, but I'm at least marginally on top of things and not missing out on all the good stuff, at least that's what I hope.
The hatches started in late February, almost exactly on schedule, with Blue Quills and stoneflies showing up around February 20th give or take. Rumors of Quill Gordons started not long after. The first time I could personally verify those rumors was again right on schedule: March 1. Over the last week the hatch has sputtered along with emergences, and the corresponding dry fly fishing, being stronger on some days than others.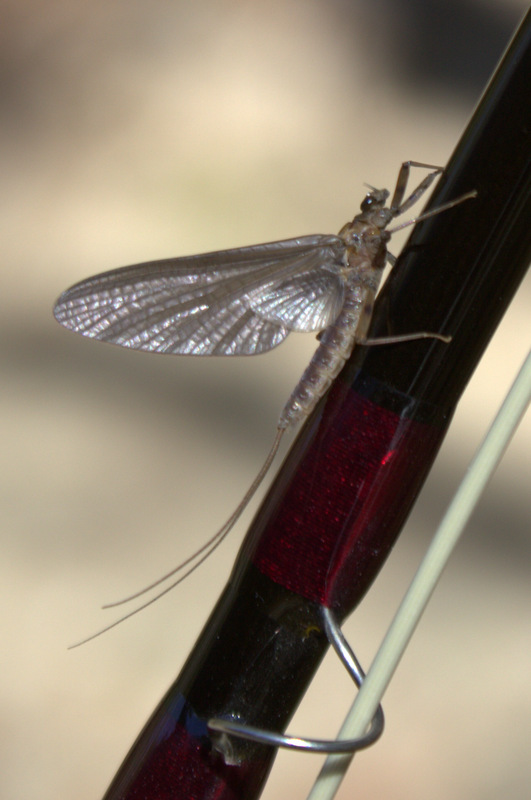 Now we are heading into the middle of March. The first two weeks will be finished before we realize it. Will there be some strong hatches of Quill Gordons still to come? That is a definite possibility, but another distinct possibility is that the hatch continues to stumble along with anglers mentioning seeing "a few bugs" but "no real hatches." All the while, anglers willing to look around long enough will find both bugs and rising trout.
The same thing seems to happen with a lot of early season hatches such as the Hendricksons. Same thing with the Sulfurs, too, now that I think about it, although the later in the season we go the more likely that there are some truly noteworthy hatches.
The lesson to be learned here is that you should go fishing whenever you have the time. Don't wait on the reports of awesome fishing. By then it will probably be too late. Go be the angler that generates the excitement of spring by coming back with your own good report. Trust me, the fishing is excellent if you just get out there.