The spring fishing has started early this year. In the Great Smoky Mountains, bugs are hatching and trout are rising. This past week, I even spotted some better than average brown trout taking bugs on the surface. Spring is always an exciting time in the Smokies because of the excellent dry fly fishing that is usually available. If you haven't experienced this fishing before, I would definitely recommend visiting sometime in the next 2.5 months. Come and see what the mountains are all about during peak spring fishing conditions!
High water is always a possibility during spring fishing. If you encounter high water, there are at least a couple of good options available. The first is to go hunting by looking for fish. Fish move into predictable places during high water and will usually feed more readily. The other option is to cover lots of water with streamers looking for that one big fish.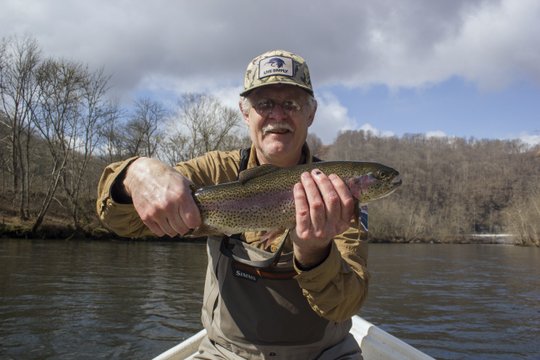 The tailwaters are also starting to fish well. Streamers are the name of the game on the Caney Fork. On one generator, some deep nymphing is also effective and overall numbers will be decent. Once the second generator comes online, flows are high enough to make the catching tougher. This is the time to hunt big brown trout on streamers. Most days will only see a handful of fish caught, but there is always the chance at a true monster.
Once flows on the tailwaters come down, the fishing is going to be excellent. This is particularly true on the Caney Fork River. Plan a day off during midweek if at all possible. Float trips will have shots at some truly large trout early in the season.
Musky and smallmouth bass fishing is another good option this time of year. Some of the most fun that can be had are the smallmouth and musky combo trips. These trips highly depend on flows and may or may not be available, but target late March through May as a good time to try this out if flows allow.