We are currently experiencing what may well be the coldest temperatures of the year. Then again this may be a long and cold albeit late winter. Only time will tell. Either way, the cold temperatures are limiting the fishing options across the area. Float trips are possible although potentially dangerous with icy boat ramps likely on the coldest days. Fishing in the Smokies is slow although not impossible. Here are the specifics for all of the best water around the area.

Great Smoky Mountains National Park
Fishing is slow overall. That can change with just a day or two of warm temperatures. Throw a warm rain on top of that mix and things can be fantastic. For now, do not expect much if you decide to go. This is a good time of year to try out different techniques and scout for later fishing. I've spent a lot of time locating big brown trout lately and am looking forward to a return once things warm up and the spring hatches start. Yesterday, after spending a few hours looking for big browns, I headed up high to fish for brook trout with streamers. Yes, you heard that right. I did catch fish although it was far from the fast paced action I would have liked. More on that later.
If you do head up into the mountains, remember that it is just as much about the experience of having a whole stream to yourself as it is catching. Proper perspective can make or break your day on the water. Don't expect too much, and when the stream is generous enough to share its bounty, enjoy each prize as if it is your last one. Nymphs, midges, larva, pupa, in other words, sub-surface patterns should be on the end of your line. Streamers may account for some nice fish although some days are definitely better than others. Finally, keep those dry flies handy just in case.
Caney Fork River
While the Caney Fork River continues to flow higher than 10,000 cfs, there is a glimmer of hope on the horizon. If current forecasts hold true, it will drop down to only 7,000-8,000 cfs starting on Friday of this week, just in time for the big snow storm that forecasters are saying is possible going into the weekend. We can definitely use more cold weather to bring on the anticipated yearly shad kill. This is a don't miss opportunity so stay tuned for more info on that.
Other Tailwaters
Unfortunately, the Caney Fork River basin was not the only recipient of heavy rainfall in December and early January. That said, the Clinch River is falling into better flows for streamer trips if big brown trout are on your radar. The Hiwassee is still high although floating it should produce some quality fishing. The Holston River is starting to offer some windows for wade fisherman to access the river while the South Holston is still mostly a float only option. The Watauga is still your best bet if you want to wade fish a high quality Tennessee tailwater any time in the near future and a good option it is. Nymphing will get the job done on the Watauga although watch for good midge and blue-winged olive hatches when the conditions are right. Streamers are also an option here.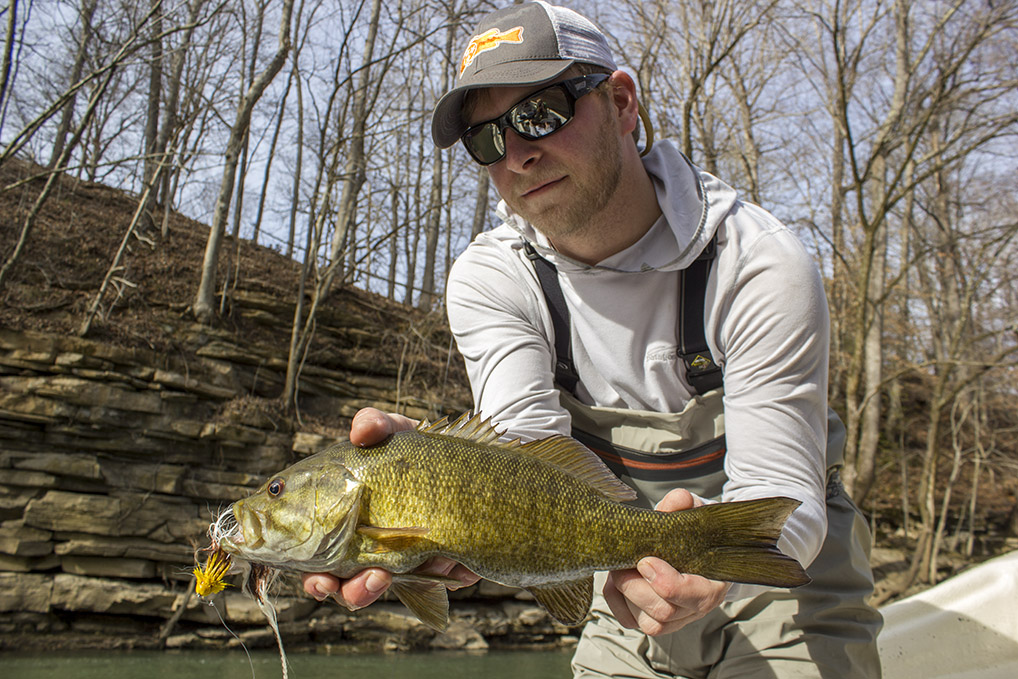 Smallmouth and Musky
Our musky rivers have settled down and are in great shape now. Anglers have been moving decent numbers of fish with some nice fish boated as well. Keep a close on on flows and rainfall as any big rain event will push flows up higher than is reasonable for both good fishing and safety. Occasionally you will be surprised by nice smallmouth bass while musky fishing. The fish above hit a musky fly stripped fast near the top of a fast run. The jarring hit surprised both the angler and the rower (me).