Welcome to fly fishing guide David Knapp's Trout Zone Anglers, your one stop shop for all things fly fishing in Tennessee. If you are looking for information on specific waters, look no further. Here you can find information on Great Smoky Mountain streams, Tennessee trout tailwaters, and warm water options. If you are looking for a fly fishing guide for fishing in Tennessee, then contact me for more info or explore available options here.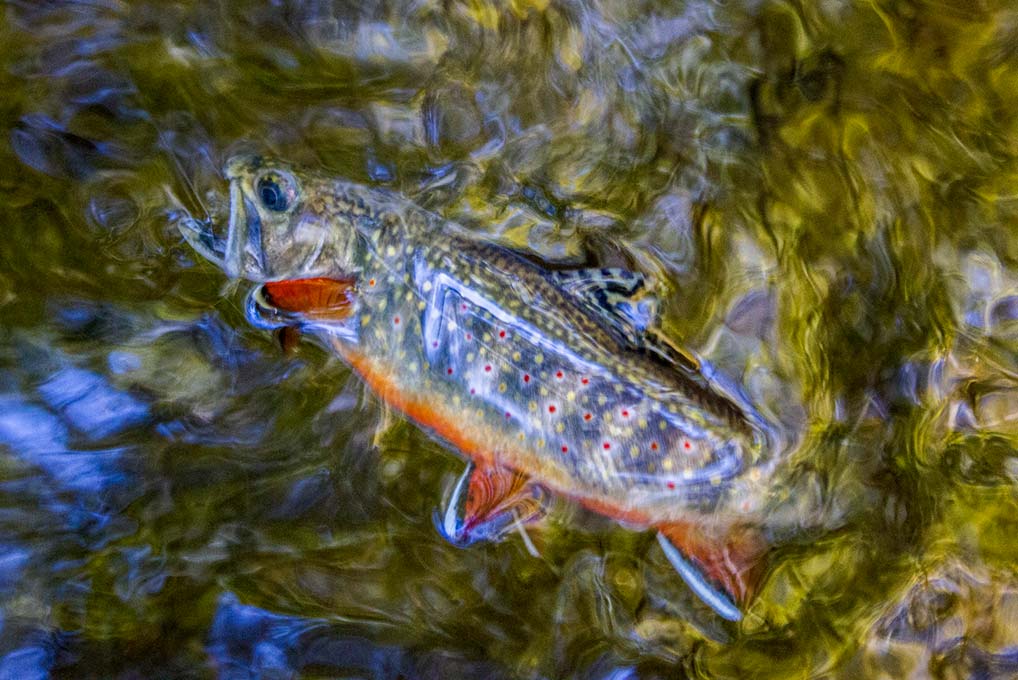 Your Fly Fishing Guide
As a professional guide, I would be happy to show you some of my favorite waters. Furthermore, with my background as an educator, I am happy to teach you the skills and techniques needed for success on a wide variety of waters. The Great Smoky Mountains National Park, Caney Fork River, and Clinch River are my primary home waters. Additionally, I also fish and guide on the streams of the Cumberland Plateau for smallmouth bass and musky.
Great Smoky Mountains National Park
The Great Smoky Mountains National Park is an angler's dream with 800+ miles of trout water available for exploration. Native southern Appalachian brook trout abound. These fish have been restored to many miles of stream in the mid and upper elevations of the Smokies. Consequently, anglers can now fish for these beautiful and unique fish in many streams across the Park. Wild rainbow and brown trout dominate in lower elevation streams. A fly fishing guide will speed up the learning curve tremendously on these waters. As a professional Great Smoky Mountains fly fishing guide, I specialize in teaching the techniques and skills required for anglers of all skill levels to find success on our beautiful streams.
The Caney Fork River Trophy Trout Trips
As a fly fishing guide on the Caney Fork River, I specialize in teaching anglers the skills necessary to effectively fish this fine tailwater river. As a result, anglers looking for a chance at a trophy rainbow or brown trout need look no farther than the Caney Fork River. Anglers willing to put in some time and effort will reap the rewards. My drift boat allows us to access many parts of the river and is the best way to fish here. In addition to float trips, I also offer guided walk and wade trips on the Caney Fork.
Cherokee, North Carolina Trophy Trout
Anglers looking for the opportunity to hook huge trout in an idyllic mountain setting need look no further than the Cherokee tribal waters. A designated catch and release section on the Oconaluftee and Raven Fork offers the chance at some truly large trout. These fish are not pushovers and this trip is not recommended for beginning anglers. Think you have what it takes to catch these monsters? Talk to me about setting up your trip on this amazing water.
Other Rivers and Streams
In addition to the Caney Fork River, I also guide on the Clinch River and Holston River for trout. For fly anglers looking for something different, I also offer guided fly fishing trips for smallmouth bass and musky. These trips are on the upper Caney Fork River system, Obed River system, Cumberland River system, and Big South Fork River system. For 2018, smallmouth bass trips in east Tennessee will also be offered. To learn more about fly fishing guide trips, check out the guided fly fishing trip information page.
Finally, If you are looking for a fishing report, you can find that on the Fishing Report Blog or you can find a lot more great content at my long time blog the Trout Zone.