Temperatures have remained seasonally mild as of late. The lakes have finally cooled down and tailwater temperatures are falling through the mid 50s. We are just a good cold snap from excellent shad kill conditions. The Smokies continue to produce some decent fishing if you want to pick your days. Fish can even still be caught on dry flies. With the page about to turn on 2020, we are already looking forward to the spring hatch season and fishing dry flies to rising trout.
Tailwater Fishing Report
The Caney Fork is finally starting to come around. The dissolved oxygen situation from Center Hill Dam has seasonally improved and should be good for the next 6 months or more. Fishing will accordingly be good now over the next few months. Historically, DO starts to become a problem sometime between mid and late summer on the Caney. In the meantime, look for shad to be possible just about any day for the next couple of months. The winter streamer season is always exciting on our Tennessee tailwaters and an excellent way to try for the Guide Trip Fish of the Year.
While the Caney is finally improving, the Clinch River has still been our river of choice. Fishing has been good most days although we are looking at higher water now which can make things more difficult. The last couple of days has seen flows over 8,000 cfs, and while you can still find fish at that level, we mostly prefer to fish it at lower levels if possible. Look for the streamer season on the Clinch to kick into high gear within a couple of weeks. The good spring fishing should commence by sometime in March or April depending on flows from Norris. April has been one of my favorite months on the Clinch.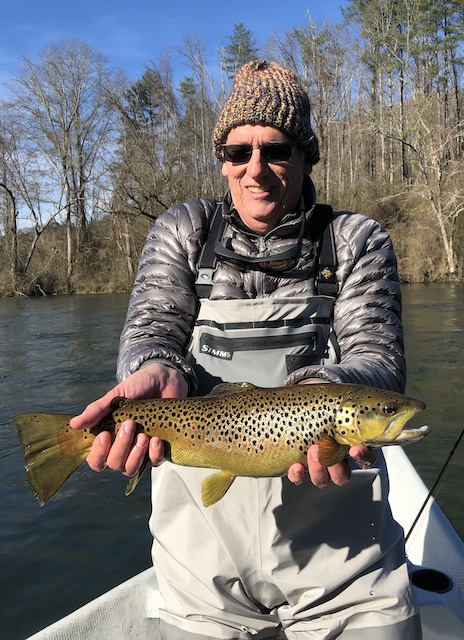 If you are fishing the Clinch soon, we are still doing best with midges, although nymphs, eggs, or worms may work well on some days also. Very small bright midges have been good lately along with the usual suspects we like in black and brown.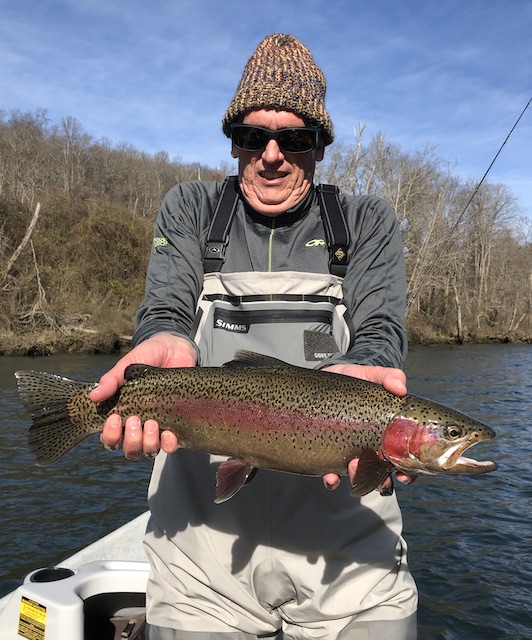 If you are looking at tailwaters to try, don't forget sleepers like the Obey below Dale Hollow. I've found some feeding fish there on low water days and it is sometimes an option when they are running water other places. Speaking of tailwaters, the South Holston has been fishing very well as of late and would be my recommendation if you are looking for something different.
Great Smoky Mountains Report
The fishing has held on in the Smokies a bit longer than usual this year. The weather has been fairly stable although I mostly prefer lousy weather days this time of year. The brown trout are usually fired up on rainy or snowy days and the streamer fishing has been pretty good. Trout jigging is another good method if you want to try some other fishing styles or techniques. Streamers are a very satisfactory way to catch fish, but have a steeper learning curve than nymphing or fishing a dry fly. If you want to expand any of your fishing repertoire, feel free to contact me about a guided trip.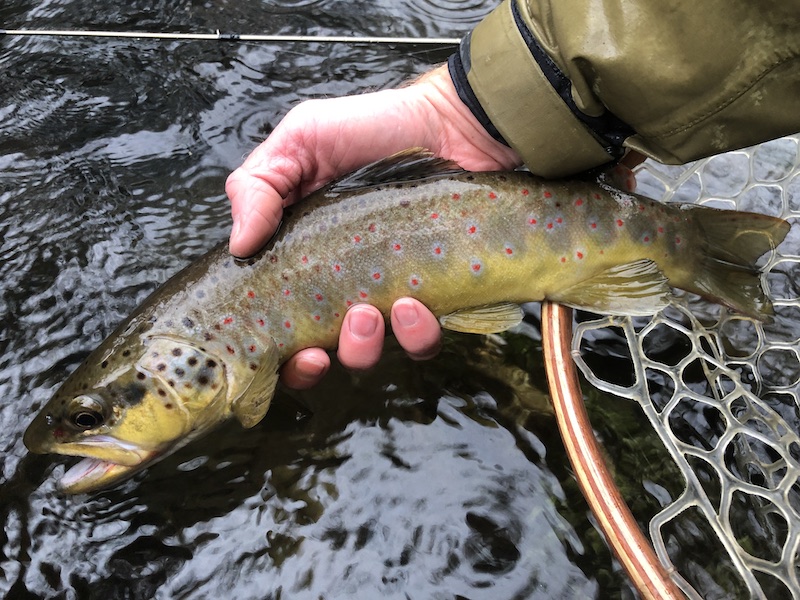 Midge hatches are the most reliable option this time of year, but also be on the lookout for blue-winged olives in size #18-#22 and winter stoneflies. Nymphing will usually produce the best, but always pay attention and switch to dry flies if the fish get on the surface.
Winter Fly Tying
If you enjoy fly tying, check out my new video on YouTube on tying the PB&J. This is one of my answers to the shad kill that I enjoy fishing so much. While you are there, be sure to subscribe to the Trout Zone Anglers YouTube account. Thanks!