Late April into May provides some of the best dry fly fishing in the Great Smoky Mountains National Park of the whole year. Anglers wishing to test their hatch matching abilities need to experience some of the late spring hatches on Little River. The best hatches of the year are arguably the yellow bugs of late spring and early summer. Sulfurs, Pale Evening Duns, Light Cahills, and Yellow Sallies all combine to make this time of year special.
Dry Fly Fishing So Far This Spring
So far this year, we have experienced some amazing dry fly fishing. Early spring produced some truly memorable days on the water. One of my favorite moments was watching Spencer land a large brown trout on a Parachute Adams dry fly. These moments don't come around every day in the Smokies. Thus, when it does happen, you need to stop and savor the moment.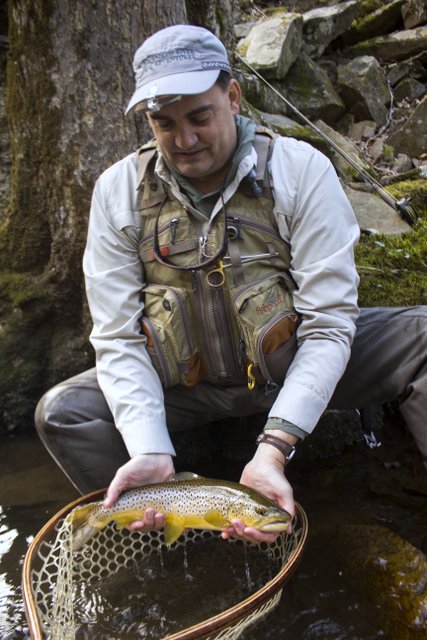 The colors were truly amazing on this fish. We released it, of course, so hopefully someone else can have another connect with this beauty. These moments can still happen this spring and on dry flies if that is what you wish to fish.
Dry Fly Fishing Forecast
The best dry fly fishing of the year is normally late April through the first half or more of May. If you want to experience the true pinnacle of this action, try to get out on a nasty weather day. Regardless, a guide will help you find both the bugs and the fish. Contact me for more info on a guided fly fishing trip if you are interested in perfecting your skills here.